Ok one craft that i actually finished. Mom and I have been on a quest to find different way's to use Yo-Yo's, not the Toy ones, The fabric ones. Grandma let us borrow (or gave, I don't remember which but unless she asks for them back will probably never see them again) a set of Yo-yo Makers. We love them they are mindless and easy and turn out so cute, The big questions is what to do with them. So this is what i came up with. I think it turned out cute.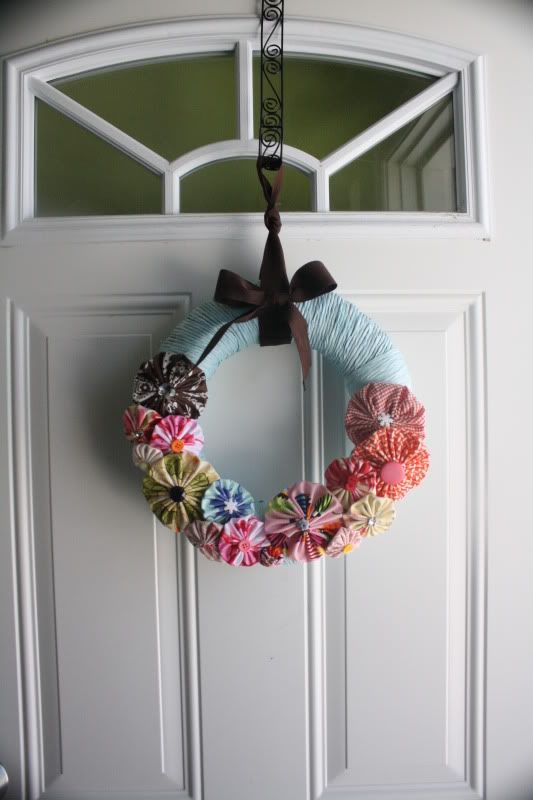 Next Yo Yo project= a quilt with Yo-Yo's. We'll see how and when i get that done
Oh One more thing. It's not Crafty but they are so yummy. Brad and I get on a kick with new food. We find something we really like then we over do it, Cook it tonnes then all of the sudden forget about it and move onto our next best recipe. I don't think this is going to happen with this.
The other night I was watching a Show with Jamie Oliver (the Naked Chef) but it was a show that he goes all over the states and teaches people how to cook healthy. Anyway one thing he made was Panini's. Mmmmm How hard it that? Not hard at all. So i got looking up recipes for Panini Bread, I found this one. You Mix it all in your bread machine then all you have to do is make it into long bun's and cook them. MMMMMMM.
This recipe also makes great focatchia bread!
Ingredients
2 1/2 teaspoons
active dry yeast
2 cups
warm water
5 cups
all-purpose flour
or
bread flour
1 teaspoon
salt
1 tablespoon
olive oil
4 cloves
garlic
, peeled and chopped
1 teaspoon
dried oregano
1/2 teaspoon
dried rosemary
or 2 teaspoons chopped
fresh rosemary
1/8 teaspoon
dried marjoram
(optional)
2 teaspoons chopped
fresh Italian parsley
(optional)
1/2 teaspoon
coarse salt
1/4 teaspoon
black pepper
1/4 teaspoon
lemon pepper
Directions
1 Prior to placing ingredients in breadmaker, fill the container with water.
2 It needs to accomodate at least 11 cups of water.
3 If it has that capacity, you can dump the water out and proceed.
4 The dough makes a large amount and does rise to the top of the container.
5 Place all ingredients in bread machine in order suggested by the manufacturer.
6 If desired, you can hold off placing the herbs into the machine and wait until forming the loaves to place on top of bread.
7 Set machine to dough cycle.
8 When cycle is complete, punch dough down and knead a few times on a lightly floured surface (the dough should remain somewhat sticky).
9 Place dough in oiled bowl, turn to coat with the oil, cover, and allow to rise again until doubled, about 1 hour.
10 Ten minutes prior to rising is finished preheat oven to 400°F Lightly grease two baking sheets (I line them with Silpat sheets).
11 After dough has risen the second time, press air out and divide dough in half (dough will still be sticky, do not use more flour).
12 Press (using your hands) each half with a light touch into approximately an 8 x 11-inch rectangle on the individual prepared pans (rustic looking is okay, but don't press too flat).
13 Brush with olive oil.
14 If you haven't already added the herbs into the dough, scatter garlic, oregano, rosemary, marjoram, peppers, and parsley over surface of each and press lightly.
15 Sprinkle with salt.
16 Bake about 20-30 minutes or until a light golden.
17 Serve warm or slice to use for a panini sandwich and grill.
18* Notethat preparation time doesn't include about 3 hours of rising time.
So we did that then we filled our Pannini's with All colors peppers, That we had toasted on the George Foreman previously, we added red pepper and we shredded up chicken (or you can use chicken from a can.) Then we added cheese and Poppy seed dressing (noname from walmart=Mmmmmm) and brushed the top with EVOO(extra virgin olive Oil, for those who don't watch Rachel ray). Put it on the George foreman bushed the other side with EVOO and put the top down and squished the heck out of it. A Miracle happened that very day in our Kitchen. The Ultimate Wolsey Pannini was born.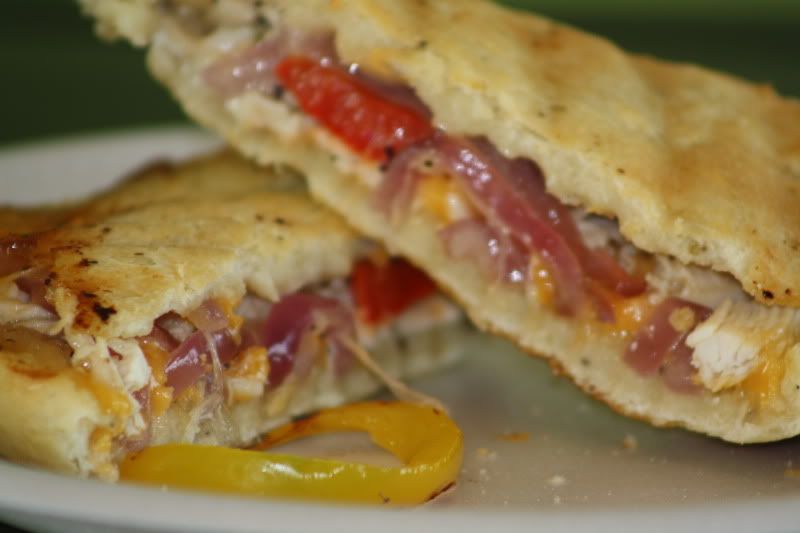 So yesterday we had Panninis again this time we used Cajun chicken lunch meat (which is really good and you can get it fat free i think) with peppers and onions and again the POPPY SEeD dressing and MmmmmMmmmm Mmmm It was so good. The kids' have ham and cheese in there's but they do love them s well.