Ahhh Christmas has come and gone again this year. It's amazing how stressed you can get for one simple day. I did pretty well this year i think. The kid's loved all there presents (which i had no help in buying, except for one.... thanks Brad). The grocery's got bought and i did not forget one thing OK except for cream. But still pretty good.

Blazer and Carson

Christmas Eve afternoon we went over to Wolsey's for a German Christmas. We made the salad and dessert. The recipes were German and well the dessert was excellent the salad we made was not my favorite. the rest of the food was great well everything i was adventurous enough to try, some of it like the cabbage stuff i took Brads word for it that it was good.
Hmmm W'HO'S this good looking JUNGE (that's german for boy)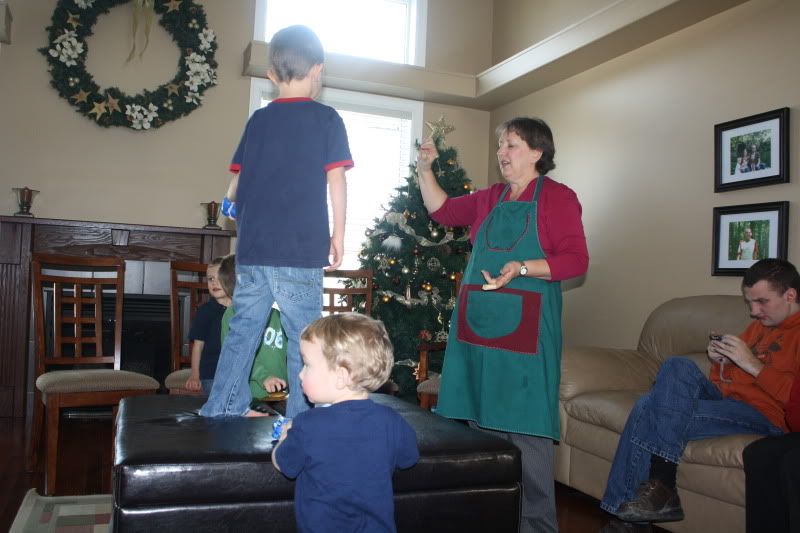 Playing Games
So we ate, played games, opened Presents. And we also decorated Gingerbread house. I opted out of ours cause well if you read a post from a couple weeks' ago you would know why.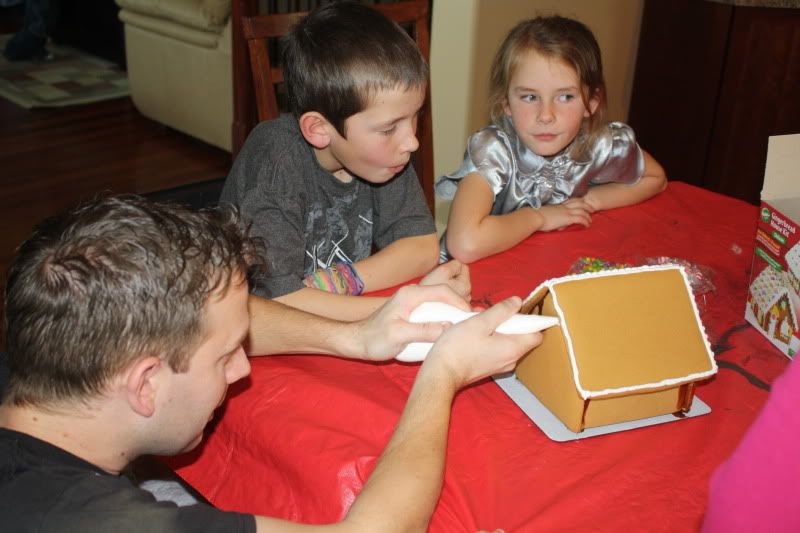 It was a super fun time.
Then we headed home to get ready for our Christmas eve. We got the slush ready, soup, dip ect.ect.
Grandma and Grandpa Hough came. It
was great food, and of course good time. The kid's were so tired so they had to have a 8 oclock bedtime. Which was a good thing cause we were up till after midnight getting toy's together and everything set up!
So i guess 29 is my mature age, Cause every year up till this year i have not been able to sleep!! But i did it this year i slept all night.
So If you check out the video below you can see what B and Paris favorite present was. I would say this year for Knox his favorite gift was Paris zuzu pet. Yeah Paris wishes it was not but what do ya do.
Blazes most favorite present should have been his train set (which he does like) but i think his most favorite was actually Playdoh.
Paris's stash. She loves her new Bathrobe (Now she wont have to borrow Grandma Sharons red one)
She won the sleep mask at the white elephant game we played. Again a one doller present and she loves it more then her other presents.
This was B's Haul. If your wondering about he lovely hair accessorie, he got a new game from Grandma Falene that he loves and it came with this sweet looking sweat band, and well besides when we ate our turkey dinner, that sweat band has not left his head.
Blazed loved his candy most.
Hmmmm look's like someones going to disneyland.
Anyway lesson learned again and again you spend so much on the kid's and there favorite present usually end's up being the $10 present.
Hope you all had a excellent Christmas, and wishing you a safe and happy new year!!!