I've been wanting to take on the task of Paris bedroom. I've hated her room, it's so small, It had a ginormous loft bed in it, that i thought would give her more space, but really it made the room look small and cluttered So I've been trying to think of a bed solution. Her Room is kind set up so there is only one place for the bed if it's a regular size bed. So I decide to do a smaller bed but not a toddler bed, Kinda a In between bed, That way it fit's in her little nook and totally opens up the room. I really wanted a simple cute French Country look, (really i don't know what that is, But in my mind this is what that looks like)

So here is her before picture............................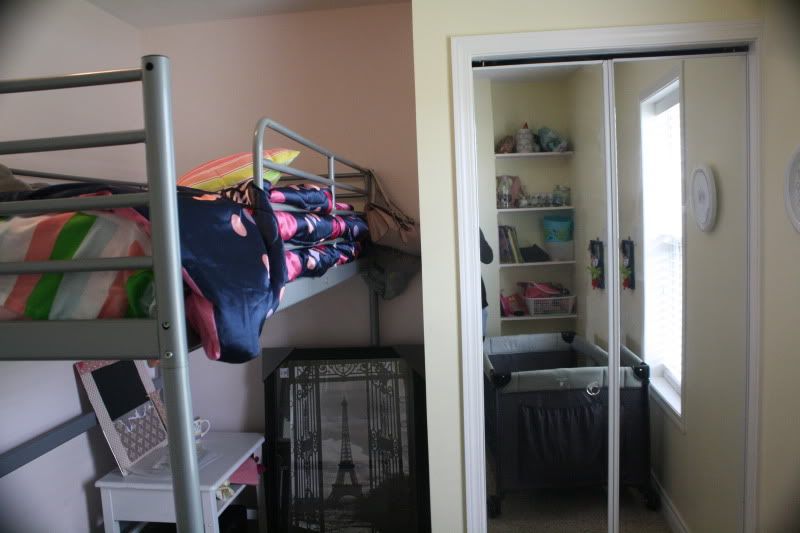 Here are the After shot's..............................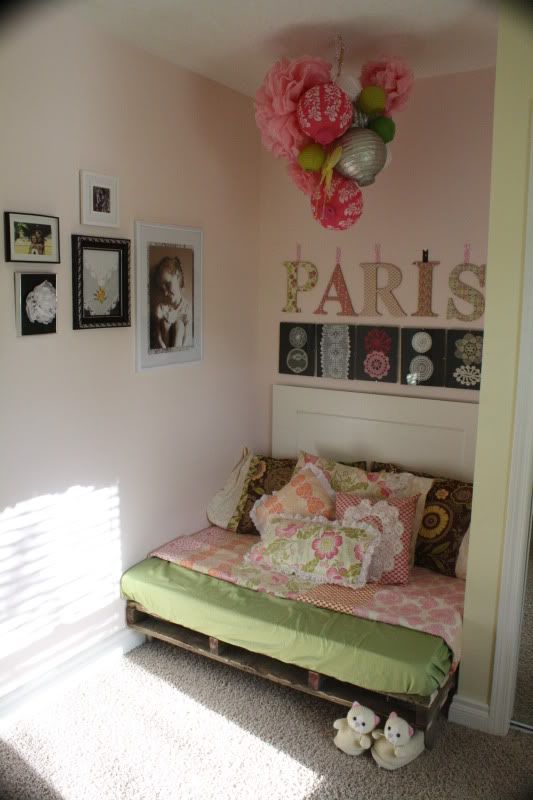 So here is the break down of everything and it's cost (just for my gee whiz file for later on in life)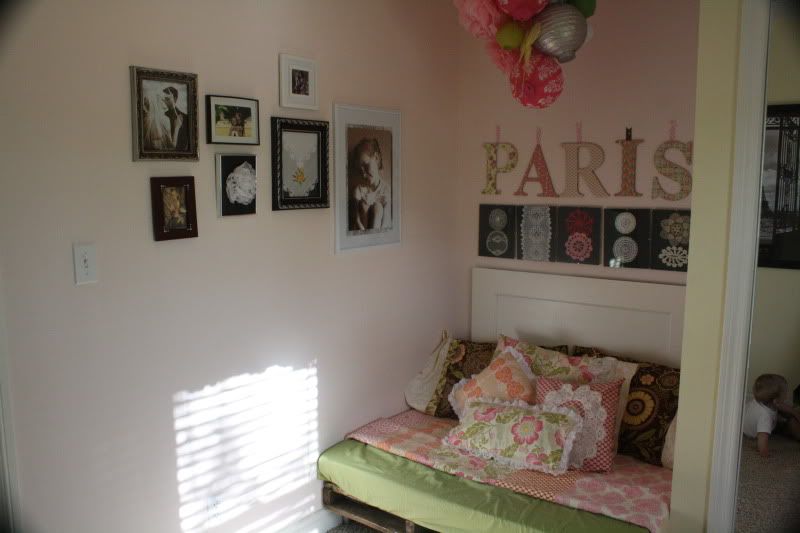 The head board is actually a big Cupboard door i picked up and a place in lethbridge called RE-PEAT. It's a dirty old place that sells all the salvaged stuff from houses, So they have door's window's, cupboards, Lights, and much to Blazes amusement, Toilets.

Headboard - $5 Paint for headboard was the same paint we did the baseboards with so it was free.

Bedding- I had the quilt done already for her about a year ago, And i had all the fabric already (of course) so for the bedding i spent $3.50 on one new pillow. I sewed the 3 large pillow cases, and covered the 3 pillow forms from her last bedroom set. The lace and trim were free from Grandma Gibb.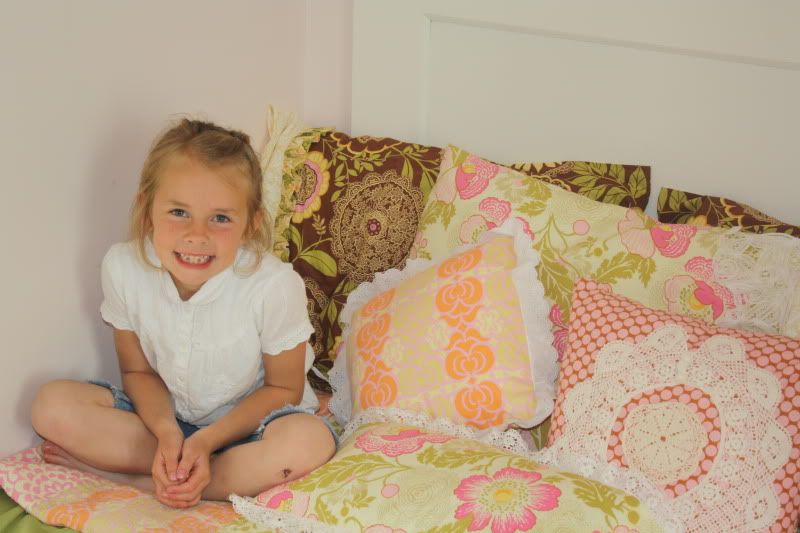 Her bed- I love her bed It's made out of a Pallet. The pallet was FREE (Thanks to Pattie Miller!) Then i went to walmart a got a package of leg's, there were 6 for $12, then i spray painted them. The mattress was made out of 3" foam and then 2 of those egg carton cushions. The foam was $40 but i only used half and the other was free (Thanks Mom). I also did buy a new sheet for $9.

Frames- The 5 glass frames above the headboard were all from the Dollar store, i bought the Black paper for $4 and the Doilies were Free (Grandma Gibb once again). The rest of the frames on the other wall were from the dollar store except the big one, That one was one we already had. So total for the frames was $13.

Her name above her bed was a re-use from her last room. But when i did it it cost me $8.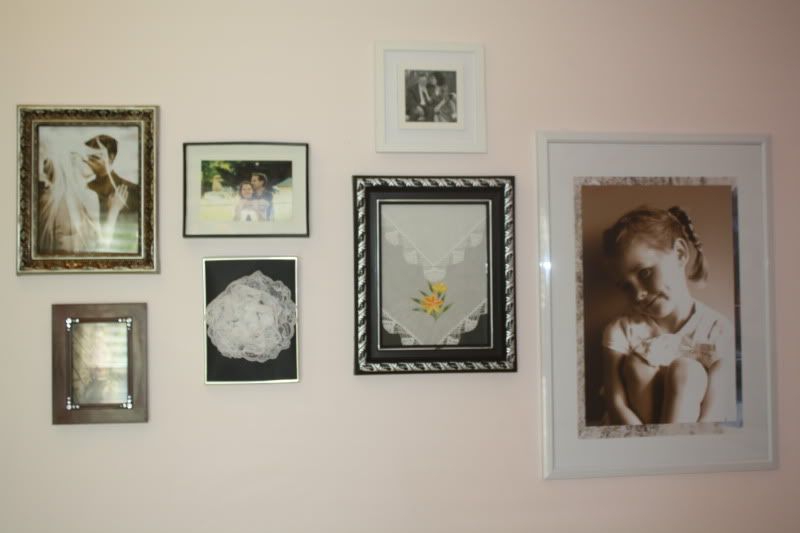 Her new train station clock was $16 from Jysk.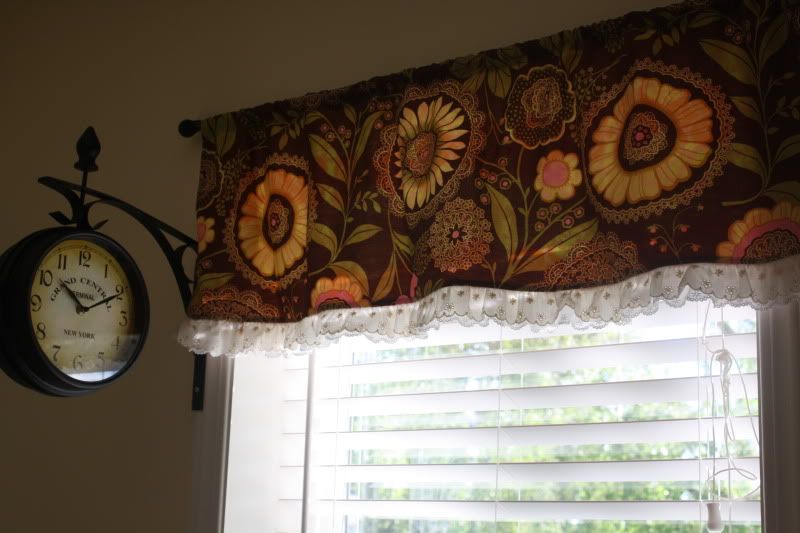 Curtains were for free along with the lace trim.

And finally the Picture of the Eiffel Tower was $20 from Ross's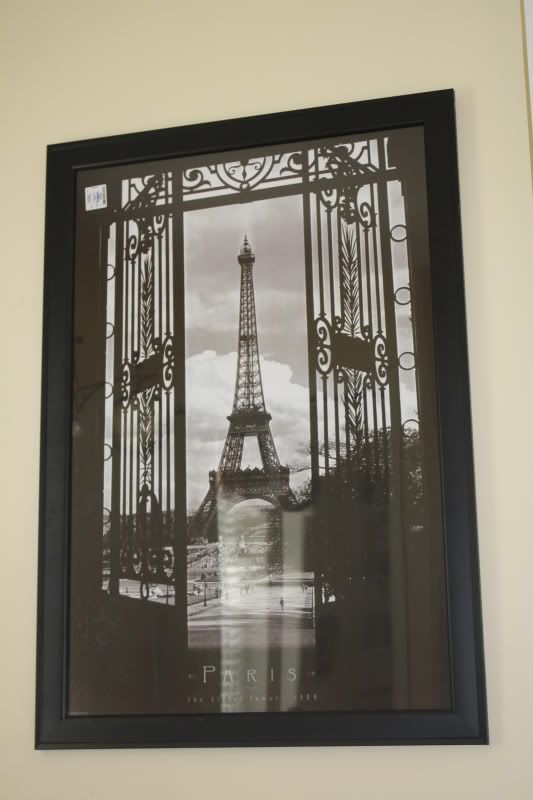 And finally (besides the bed) my most favorite part of the room............... The Chandelier of lantern's and flowers

The lanterns all together (mini and regular size) were $17, The gigantic Tissue flowers, well for the tissue it was one dollar and then i made them. Paris loves this as do i!

So this room redo was a grand total of................(drum roll)...................

$124.50

It took 3 day's to finish ( Mind you, I also had to take care of 4 kids, and wait for Brad to help hand the big picture and help me lift the bed) But all in all well worth the time and every penny spent!