We took a little trip this weekend down to
Greatfall's
. Mom and Dad flew in Thursday so we met them Friday and had dinner went swimming and got up and went shopping Saturday. It was tonnes of fun. The highlights
1. Blazes Highlight was having Grandma and Grandpa in adjoining room's We woke up bright and early and started knocking on there door.
2.Paris Highlight was swimming with Grandma and Dad. She loved it and I've got to say everywhere Paris goes she can always make a Friend, by 10am she had made 2 freinds at the pool, That she was busy playing with. If only we could all make friends that easy
3. B's Highlight I would say was his purchase of a big bag of sea shell's from
Ross's
Dress for less........??????? He spent a good 15min debating whether or not he should spend his entire monthly allowance on a bag of shell's. He finally settled for a small bag that only cost half his allowance. Money burn's a hole in that kid's pocket. Drives us nuts!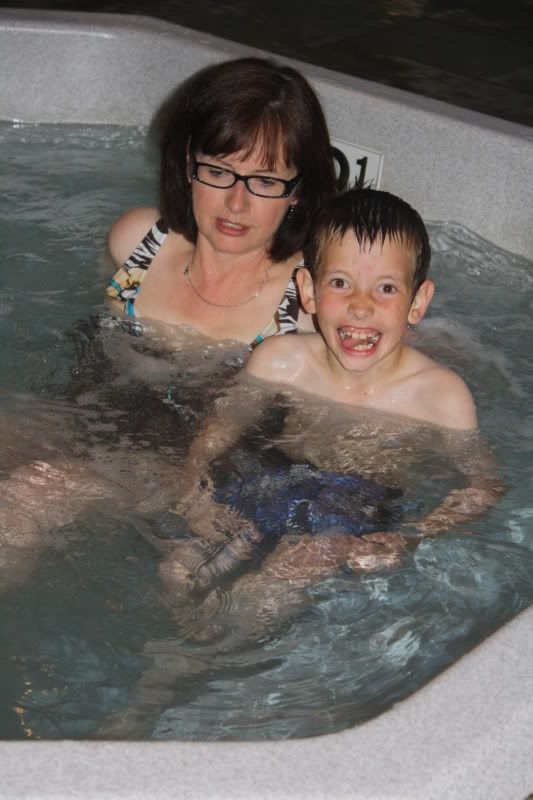 4. Brad's highlight was swimming with the kid's and getting a few new work clothes.
6. My highlight was taking Dad with me to get supper for everyone. Not sure if it was the passenger or driver but the taco's ended up down the hall with wheel chair tire mark's through most of them.
HeHe
7. Knox's highlight was getting home. He cried all the way from the
coutt's
border till we turned into
Magrath
, that's when i finally took him out of his car seat.