It was a super busy weekend for us. Saturday started with a super exciting Hockey game of B's! He got to play goal and despite feeling not very well, He did pretty good. We lost 5-3 but there were just over 30 shot's on net against B so all in all he did well!
He was quite jealous of the other teams goalie who was outfitted with real Pad's (our team only uses his street hockey pad's). Anyway he's so excited about the prospect of getting new "Real Pad's". Minor Hockey is suppose to be supplying them but they have not and nor do we know when they ever would. But some very very Nice folks (Wink, Wink) Think he would do even better if he had his very own pad's to practice and play with!!!! We've been talking about it for a while and trying to figure out how we could swing it, but with all the other crazy expenses in a family of 6's life (shoe's alone) right now it just was not in the card's. So we are so grateful that B will get the opportunity to own and practice with the real thing! (Thanks so so much you really have no idea what that means to us and him)
After the hockey game we whipped down to cardston to do a quick trick or treating at Grandma and Grandpa Hough's and Aunt Marge and Uncle Lorin's. Then we popped over to Maggie's house (Foxx the dog's previous house) so they could see each other. Maggie is super excited and Poor Foxx was not so excited. He's a much calmer dog then Maggie.
Home we went to have a Birthday Party Dinner for Grandma Gibb, yep that's right she was born on Halloween. After Dinner and Cake on went the costumes and out they went trick or treating.
Missy took all the big kid's I took Blaze to all of 3 houses and it took so long we quit and came home to pass out candy.
Poor B by the end of the night was so tired and worn out and not feeling good he ate one treat and went right to bed!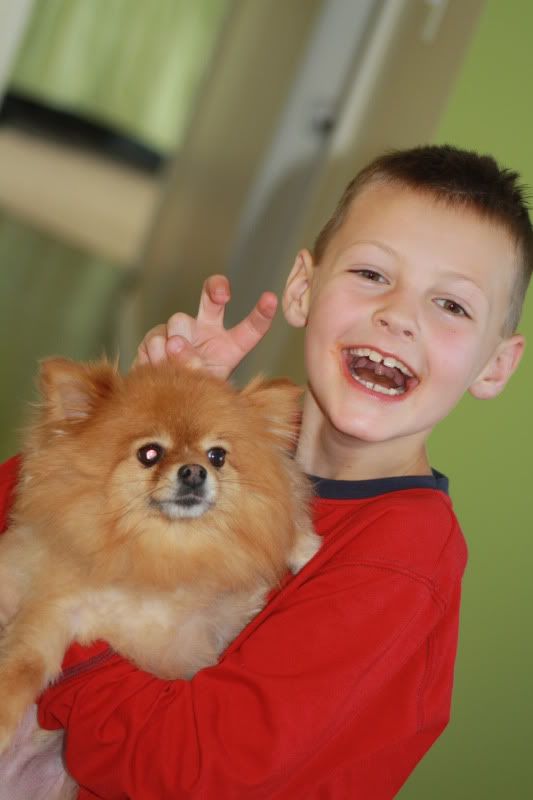 The Birthday Girl
The Loot!
Poor Tired B