Brody's been working on his faith in god award since he's turned eight. He decided yesterday to do one which he had to prepare a FHE lesson on one of the principals of the Gospel. So he and Paris (who is also working on his FIG) put there heads together and came up with a great game.
They picked things that were good for you and some that are not good for you. Drew a picture of both and wrote out what they were and put them in a bag. We in turn had to pick them out and get matching bad things or good things. They worked for a good hour on them.
This was the finished game. It was very fun and tricky might i add when i pulled out a chocolate bar that was watermelon flavored, I'm not going to lie, i was confused, I thought watermelon fruit but chocolate,sugar hmmm. He loved that i was tricked up on it cause that's why he made it be watermelon flavored for a trick. What good kids! oh and his Wein (wine) was also a funny one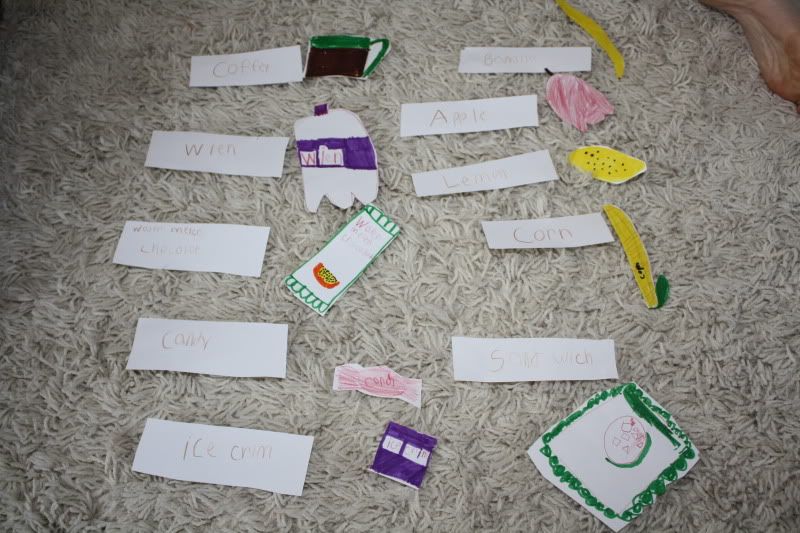 Blaze got up happy this morning (yep that right happy) He got dressed right away and wanted to go out and play. So he got bundled up and out he went. He loves being outside and has found that icicles are super good to eat, but not if they are yellow (my words of wisdom). This was him with his arsenal. he insisted on taking everything with wheels out with him and once he gets them out there lined up he finds his bike and rides it around with out even touching all the vehicle we painstakingly dragged out there.