Finally I got the new power cord for my computer! If you've noticed (if anyone reads this) there has been no pictures, which is not at all like me. I put pictures with every post but my cord went to the crapper and no longer worked and i had no juice left in the battery so alas i had to resort to Brad's computer. (yes we have our own computers). Brad has no pictures on his and I cannot find the actual cord to get the pictures from the camera to his computer so, Long story even longer There were no pictures and i missed it! So here we are back with pictures.
Last Saturday was a super busy day. Brad was up and out of the house by 4:30 Blahhhh He was doing extra tiling work so we can pay cash for the roof to be done. So the kid's and I got up and got started on our work. Really it's not work it's fun! I was doing more pieces to my outdoor sectional. I'm proud to announce Phase one is complete. Phase two is cutting foam and buying pillow's to fit. Phase 3 is covering!!!
So here is Phase one!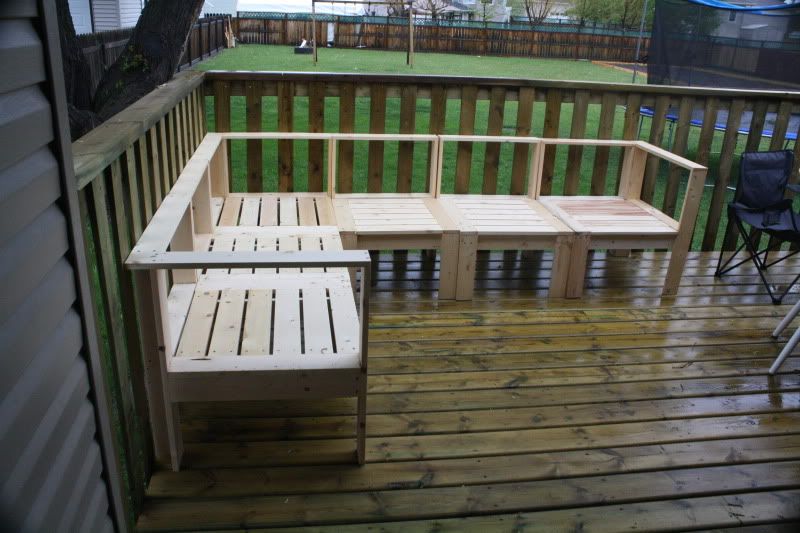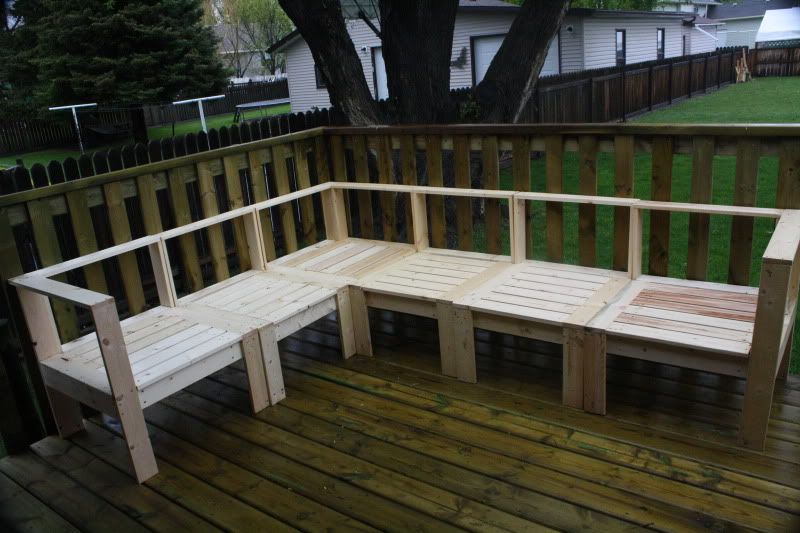 Well as i was doing the sectional i ran out of screw's and wood, so the kid's and I played a game of ante-I-over. I have not played it since we lived in the long house and had to rock, paper, scissors to see who had to jump the fence to get the ball out of Fraser's yard, but i digress. I totally schooled the kid's in it. They may be fast but i know all the tricks! So we played that till Brad got home at noon and talk him into playing with us, He asked were i came up with this game? What! are you kidding me, I would love to take credit for such an amazing yet simple game but it was not mine to take credit for. So i said to him " you did not play this when you were little? He said "um no Kade, we lived in Welling, We counted Cars for fun" Hehehe he's so funny. (but he was not kidding).
Anyway after our amazing game i went back to working on our sectional, while Brad and the kid's planted the garden.
Soon after we got cleaned up, and went and had a Bar B Que with Wolsey's for Scott and Falene's Birthdays! Well I think Scott's was counted in there. But i forgot to take pictures of anything but Knox and Emily. So here they are. Oh wait after I say all this i think this was actually Monday? Hmmm I don't remember, It's been that long of a week!
Yesterday was a rain day! Blahhh, But i did get my Camera bag done. I wanted to make a bag that fit my camera and len's but still work's as a regular bag as well. Yippie I finally did it!