So the last week I've been feeling pretty down. The weather was one thing, A week straight of rain, Being trapped inside with the little boy's all day! Enough to make anyone go a little (alot) CooKo (OK i really typed that word 3 times and it still does not look right, Oh well I'm sure you know what i Mean). Anyway Along with the rain and being trapped inside for the week, I got sick. Knox started this sickness passed it to Brad, Who passed it to Paris who Passed it to me. And me, feeling as grumpy as i was decided i got it the worst, Not only was i throwing up and so tired but i had to take care of the little boy's all day inside!!!! Oh talk about a pitty party. Anyways the root of my grumpiness stems from one thing...... Jealousy.
Oh it's a evil thing. I adore my sister's! But i was down right jealous of one for the past two weeks. She called me up and told me she got to meet
Amy Butler
! For those of you that don't know I've got a major Fabric Crush on her! She by far is one of my favorites. Anyway. So within this conversation about Amy Butler and how awesome she is, I brought up the topic of Photography that we both enjoy. I Told Ali about
Kristen Duke
and how she has awesome stuff, And that she was doing a class in Ogden, A short drive from Ali. So Ali, who lives in the land of endless creative possibility's, got to go to the class. And after when i talked to Ali about it, She said she got to meet
The Idea Room Lady!
I was like Shut the front door, If you notice on the right side of the screen, there is the idea room on my links! I Secretly Blog envy her! Anyway After Jokingly telling Alisynn that she was litterly living my dream life (Maybe not so much joking). I realized that the week was not a total loss. Instead of meeting My Fabric crush, My Photography Crush as well as a Major Blog crush I got to do this....................
Have the little boy's and Brody help me Plant flowers in my new/Old Tin bath thing, And them watch them eat cheesies while trying there very hardest to leave t
he newly planted flowers alone.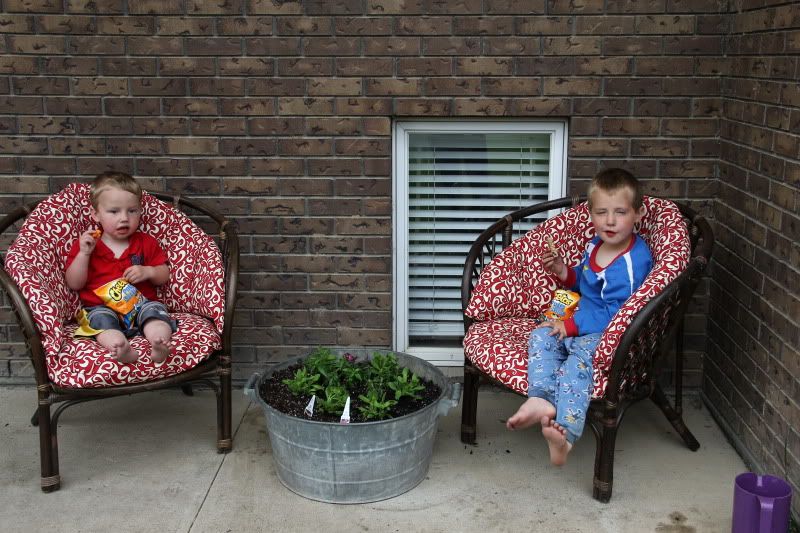 I got to take Brody and Paris Garage saling, were we picked up a sweet set of Junior clubs for Brody, as well as a Dog Picture frame for Paris (anyone who's surprised stand on your head). I got to purchase the Worlds Most ugliest
chair, I'm pretty sure it was made in the 70's then recovered in the 80's and will now be brought into this century my Me!
Brody also purchased this sweetness.....
As you can tell in the next pictures, both little boy's loved it and fought over it, Till Brad finally took it away and hid it.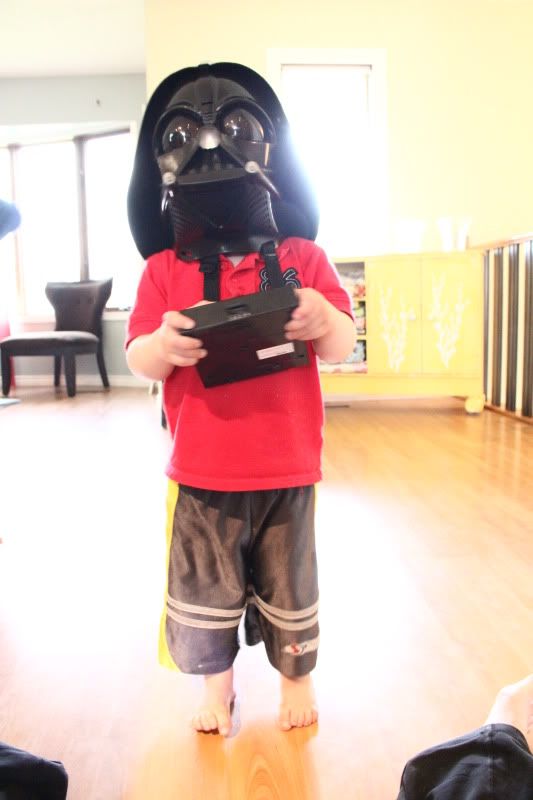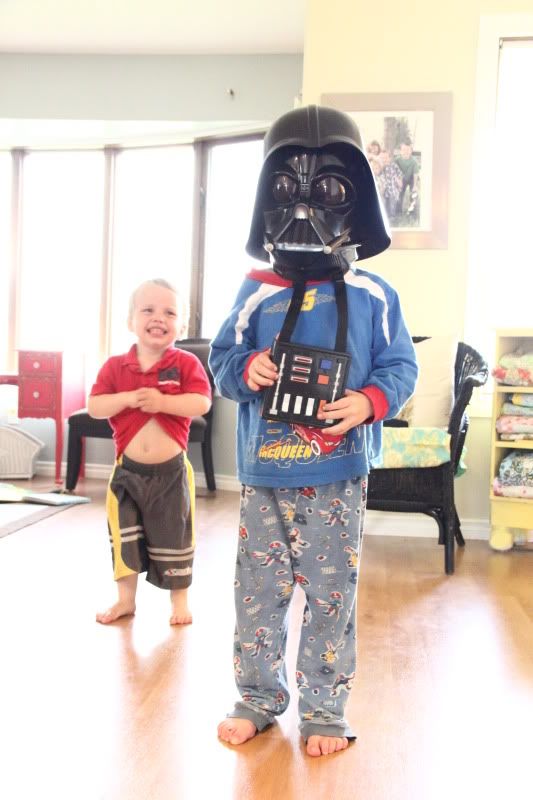 And finally i got to watch this handsome guy mow the lawn in turbo speed before the rain started once again!!
All in all it was a excellent weekend, I didn't meet any of my celebrity but i did get to hang out with some pretty awesome folk!
(but By George, if Ali Calls with anymore fun stuff that she gets to do, I'm packing it in, and moving, So you've been warned Big Guy!)