So it's coming up on a year that we have sold our house and moved! I can't believe how fast it's flown by. The little house is still sucking us dry! Before we realized how much money we lost on that house we put in the agreement that we would change the 70 amp electrical to 100amp. Big mistake, next time we move I'm washing my hands of the whole thing. This has turned out to be a huge huge project! $800 or more later, we are getting it done finally.
Grrrr. The reason we sold that house is because it was to small for our family! nobody could sleep together.... everyone had to have there own room.... ect ect. So when i walk in on this scene i have to question why??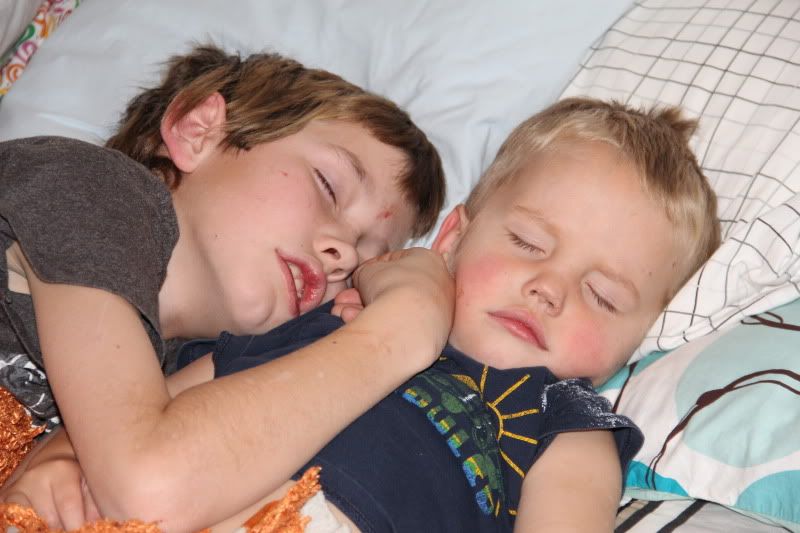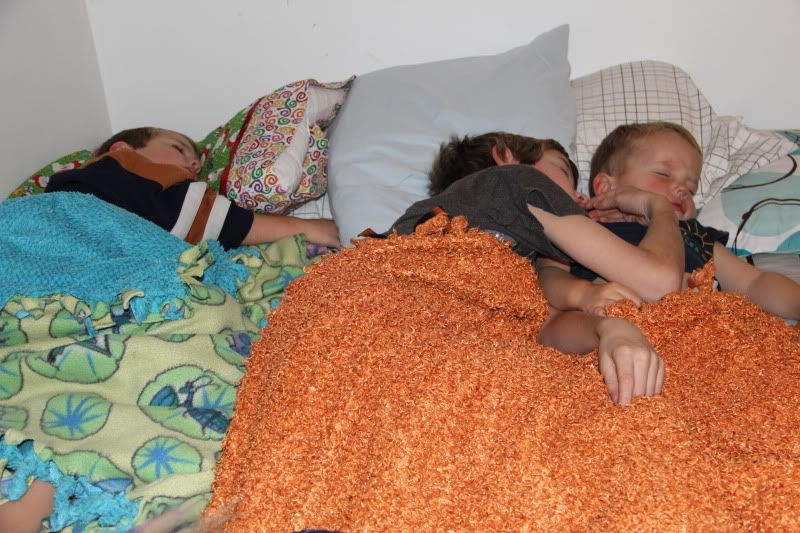 notice even Foxx sleeps with all the boys!
We know how 4 empty Beds, and everyone of the boy's sleep together. Brody and Blaze have a few fear issues and Knox just wants to be part of the crowed. And Meanwhile Paris is downstairs with all the lights off door shut and as happy as she can be sleeping in her own, dark room. She does not scare easy and complains when Brody wanders into her room at night cause he's scared in his own room. Hmmm We certainly know how to raise Brave Boys.
Last night was the last craft night until next year. We were doing temple canvas' it ended up blowing up into a huge project! 107 Kit's were signed up for. Yikes. It was a easy one to get together well kind of. I had done the temple pictures and had to add the words on them" if this isn't your castle then you're not my prince". And any of you know me very well you know i can't spell and my grammar is horrible. So i checked double checked and triple checked and had Brad check then Finally I went to order them (It was like 80 8x10 = $140) i made one quick change and Emailed the pictures in. I got them back Tuesday night and put them in kits, and while i was doing that Brad looked and one and said "hey Kade, You know this is spelled wrong"!!!!! I cannot tell you the sinking feeling!!! Grrrrrr. So i had to reorder $140 worth of pictures last minute. Did that and forgot to push off the color auto correct off! So they came back a wonky color that i was not super happy with but it was impossible to redo so...... We went with it! That had to be the most aggravating time ever!! We had about 17 people here, it really was fun .
Anyway it's over and done and i can start fresh next year!
So I'm off this afternoon to Black Friday!! Eek! It's been quite a few years since I've been able to go.... So I'm pretty excited! I guess I'll update when i get Back!!!