Brody and Paris have been working really hard this summer, to earn Money to buy there school clothes. Grandma Sharon was the best supporter of them, She gave Brody a lawn mowing job once a week all summer. Paris & Brody also got a job babysitting 6 bunnies for a week. (That was the best job ever) They were responsible to feed and water the bunnies ( a 2 min Job) but they would stay over there all day and play with them. They have also have a cupcake stand and they are hoping to do one more this week! Anyway Brody has saved up $160 and Paris has $80. They were able to go up and open up Bank accounts and get there "credit Card" which is really a debit card but why burst there bubble right!
Anyway Blaze has felt a little left out. He loves caring money around and paying for his own stuff. He received money for his birthday and pretty much thought that was the best present ever! Anyway he really likes to try to sell stuff so he likes doing lemonade stands.... Which i hate, but the kids helped him go buy the cups and lemonade, and make it and set it up... He did look cute out there.
He earned a $3.25 before throwing in the towel on account of to many Bee's.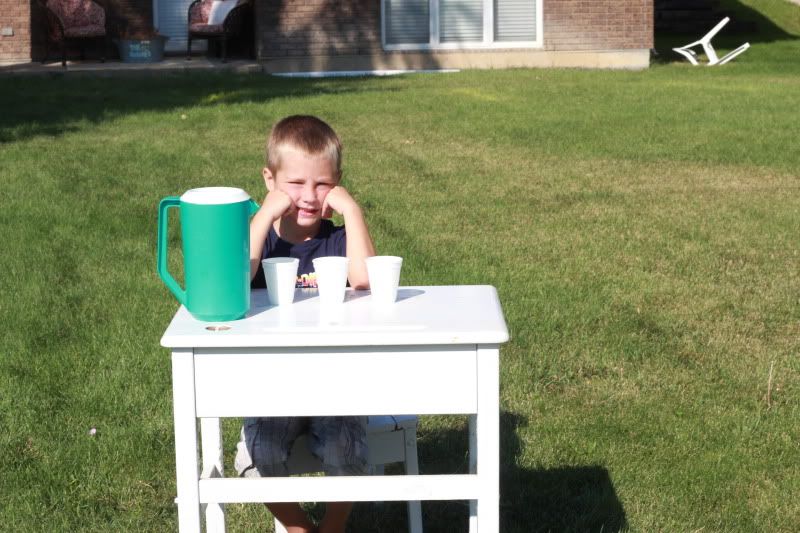 He had a lemonade stand a month ago, and nobody was paying any attention to him (from inside the house) until he came in with a pile of money ($12) Guess he was a good salesman that day. That night we had Pizza for dinner, and after realizing Blaze had been missing for a while we checked around for him and sure enough he was outside selling our leftover pizza! Bahahaha
And Just as a side note, Knox called me in today to wipe his bum.... and this is what he looked like.... You know it stinks when he's holding his nose.....