Once a year i rally the troops, Plan out a breakfast, Figure out gift's and get the kid's all pumped up about There Dad. As soon as the kids get excited they start planning all the cool things they are going to make for Dad. This year was no exception. They have cards and drawings and all sorts of really cool stuff.
So we got up bright and early and left Brad sleeping, The kid's went out and painted a sweet fathers day sign (that Brody had been planning for a whole week), While i started on Breakfast. The kid's took breakfast into himwhile singing I'm so glad when Daddy comes home. After Breakfast came the Presents. Brody painted him a change jar, Made him a coupon book as well as a word puzzle, and finally a little biography of Brad's life. Paris Made a sweet mail holder, She was excited about the fact that it was done with Colored Duct Tape. Hmmmmm. She wrote a lovely long letter (as per Usual). Finally the little boy's gave dad, candy, a new BBQ scrapper, and New BBQ spatula as well as a new gardening tool. And finally we all have him a new Basketball Hoop. He's been bugging me for the last few months to put it in the budget, Little did he know i had worked it in, but when i had the money to go get it, they were all out, so today he got the rain check and he'll be able to pick it up in a week.
Brad is a excelent Daddy and Husband, We are so lucky to have him!! In his book from Brody it asked what you find your dad doing the most.............
Brody's answer was "cleaning" See he really is the best!
So tonight G-ma and G-pa Hough are coming for dinner, as well as Mom and Dad. Actually Dad's already here, asleep downstairs, while mom's at church. So Speaking of my DAD on this wonderful fathers day, These are the top #3 things i love about my Dad
#1. His Sense of Humor, I would like to say that's were i got my humor from, But i cannot find my humor as often as Dad finds his.
#2. His Laugh. I adore Dad's laugh, It makes me laugh, I'm not sure who would be able to hear Dad laugh at Tim the tool man or Jim (according to jim) and not at least smirk at Dad's totally out of control laugh.
#3. I love when Dad raises his had to say something, and Tell's us how proud he is of us and our Kids.
I love my Dad and i feel so blessed to be living so close to them and to have all this time for him and mom to make memories with my kids. We are so Blessed.
These are the pictures from this morning.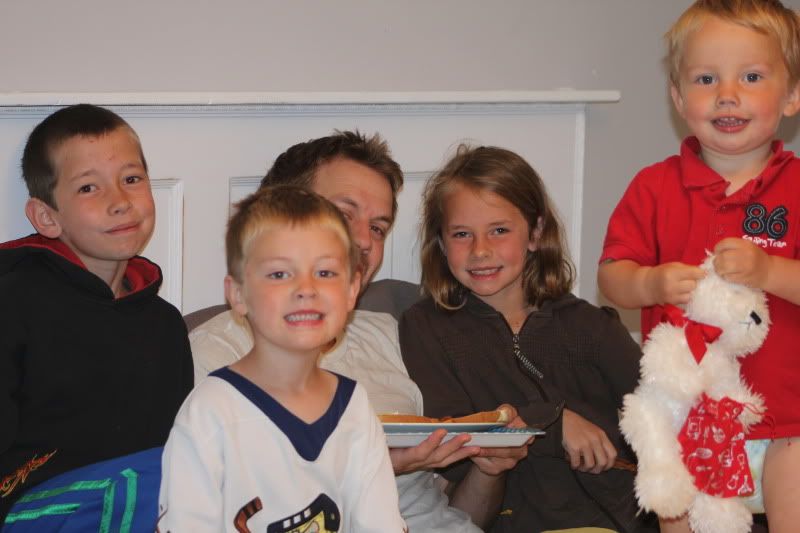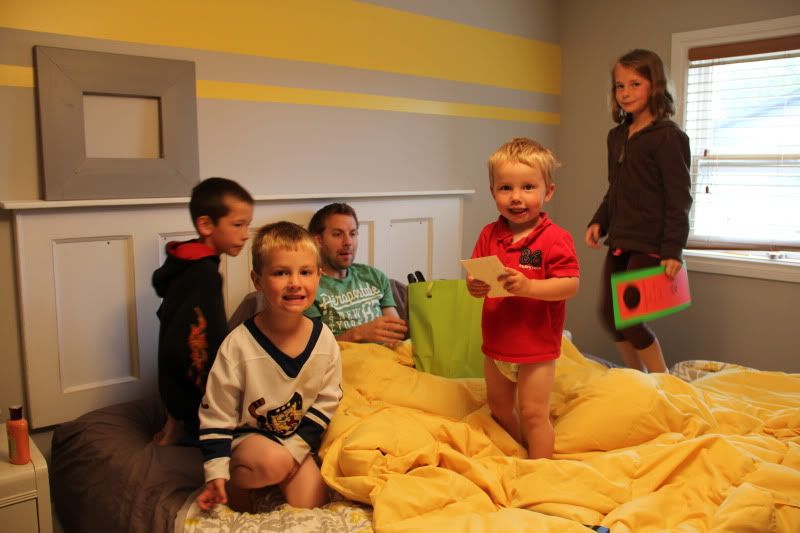 Brad's so excited about his...........Change holder.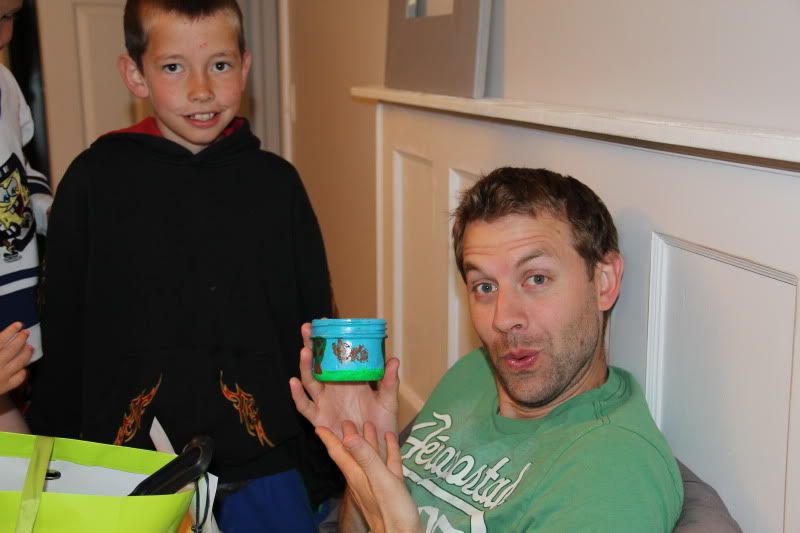 This was the kid's work of art this morning!
Knox has taken it apon himself to help Grandpa, We usually yell at the bigkid's to help Grandpa in the house but Knox get's them out of the way so he can help. Not much of a help since Grandpa laughs the whole time which makes it 10 times harder to help him walk in. But Knox is so proud to help Grandpa get around.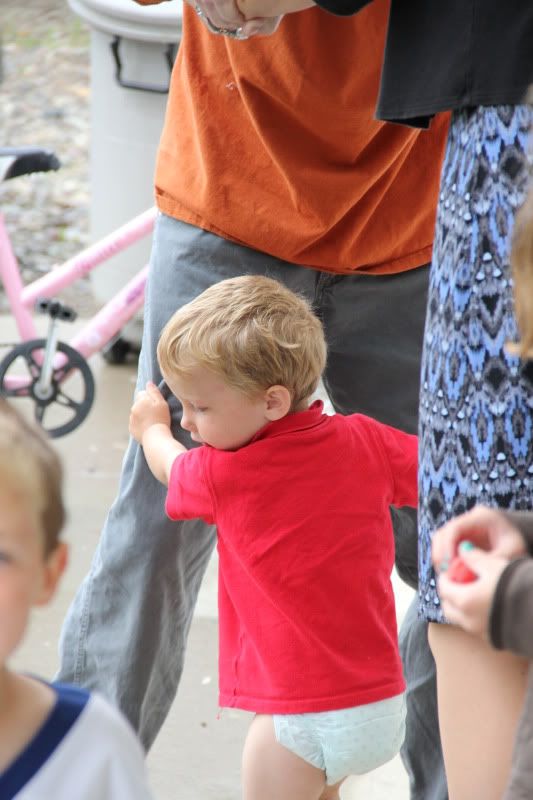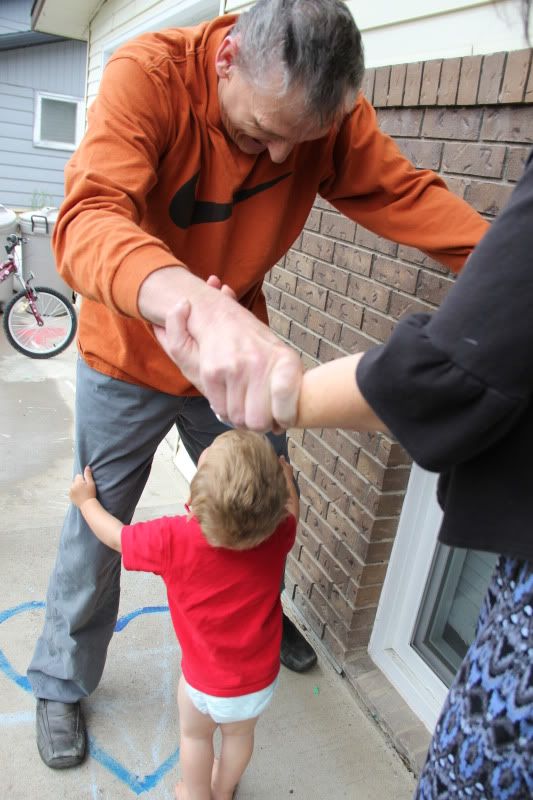 Then Grandpa get's down into bed and Knox pretty much alway's joins him for a little while atleast.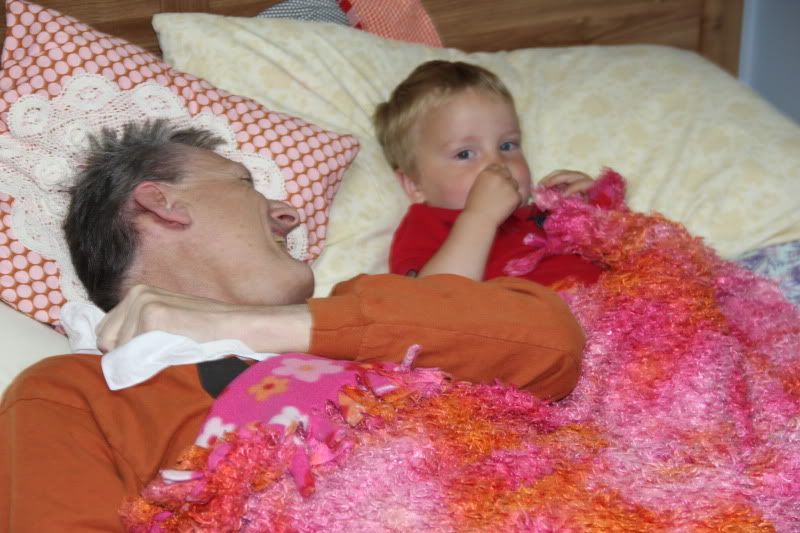 I got the cupcakes made and almost all the icing befor the boy's heard the mixer. So close.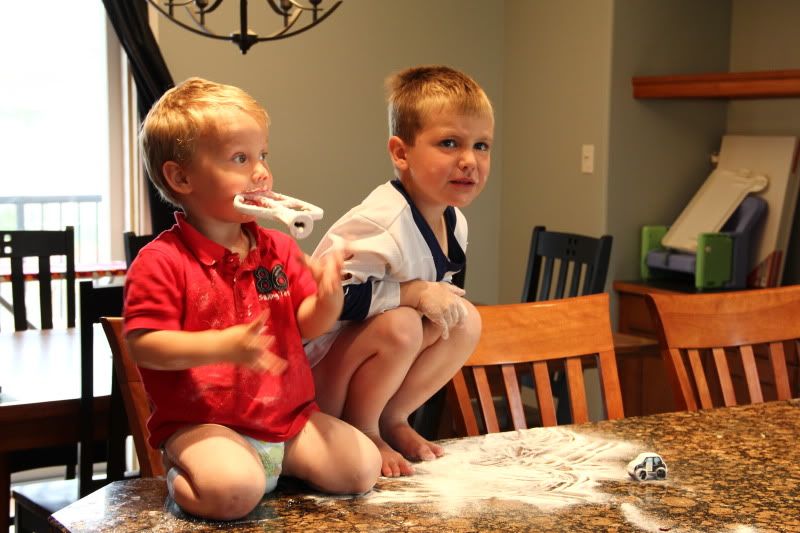 Mmmmm Lemondaid cupcakes. I found this recipe and Pinned it (Pintrest.com My new love), so today was the day we tryed them. Mmmmm Good!