Summer Holiday's are upon us!! I usually have Mixed Emotions about Summer holidays, but his year I'm genuinely happy for them. We've got Lot's planned (not big stuff) But small stuff. In fact this year we are going to try our hand at camping!!! Heaven help us! We'll see if we survive, We are not campers at all. Brad use to camp when he was younger but i never did and we have not since we got married. Anyway so we'll see how that goes.
We got Lot's of birthdays this summer, Knox turns the big 2 on the 14th of July Paris Turns the big 8 On the 29th and I'm Yikes 30 in august and Blazer Followes mine and he'll be the big 4~ It's a big summer for us!.
But back to finishing off the school year, The end of the year at school consists of the Games day (track and Field) except they play weird things like shoot the action figure over with a water gun?? Hmmm We'll we went up armed with the camera to get some sweet shot's of the things the kids were doing but alas I forgot the memory card. Oops
But i came fully prepared the day of the triathlon. Paris had not been feeling well the day before so she decided she better go in a group, She didn't think she could handle the whole thing on a weak stomach. But of course she felt fine the day of and was disappointed she could not do the true triathlon. Anyway her team did great, She got to be the runner cause she's so super fast. She keeps a steady pace and seams to never get tired! She's awesome! Brody opted out, He was on his own team to do the true but he ended up with strep throat. A legitimate reason to back out. Which ended up good for me cause Blaze went and played with Travis, His friend that lives by grandmas, And Knox stayed home with Brody, So i was kid free and able to watch Paris in peace.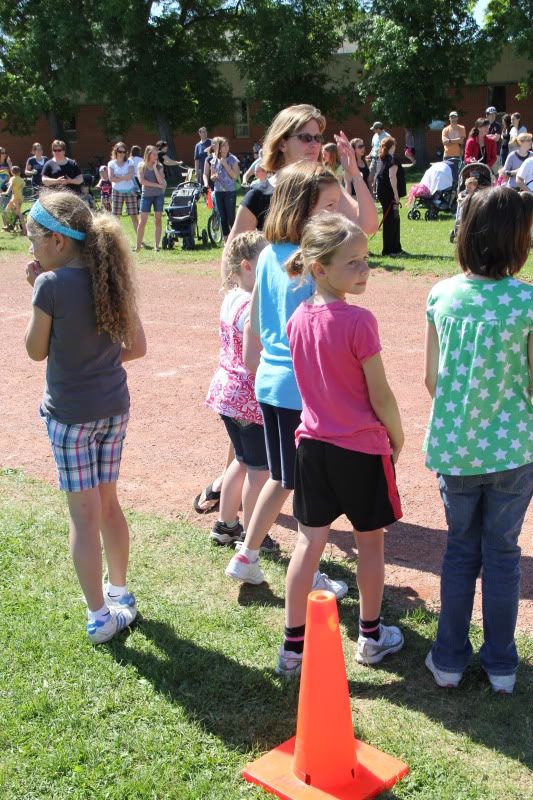 It ended up being a really warm day and i got a sunburn. First of the season! Hopefully the last burn but I'm begging for more sun!
Anyway summer here we come!