Knox is growing so big and so fast it's hard to Keep up on everything he's doing.
Yesterday we cracked out the food. He's know 4 months old and so big and fat we thought it was time. So we did rice cereal and squash. (That's my secret trick. Feed them vege's for the first little while and then they will like them as much or more then fruit. It worked for B He loves all the nasty vege's and Paris is good at eating them as well. And Blaze could not live with out Broccoli. Probley a coincidence but still i try)
Anyway Knox did good besides getting is all over, which was kinda my fault as well.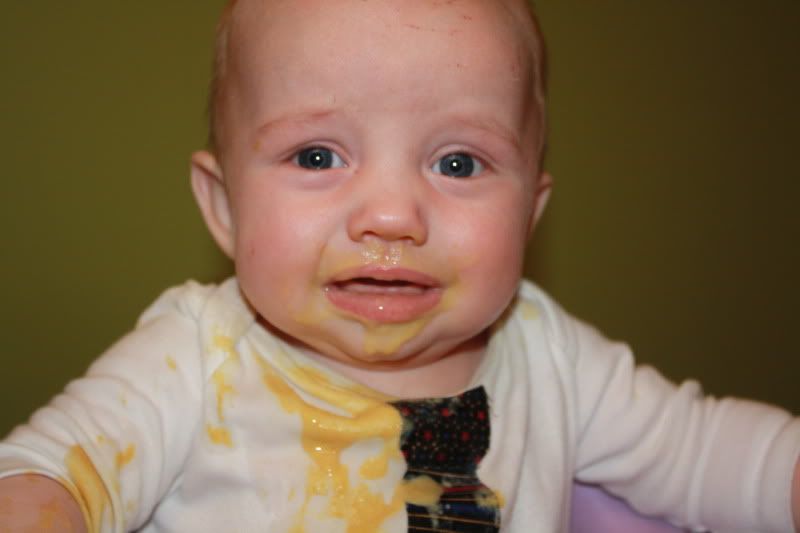 So Blaze, The last 2 weeks, has learned to watch Cartoons. It's a happy day at our house. With the big kids' i totally restricted there TV time down to like 1/2 to a hour or maybe a movie. But this kid i will do anything to get him out of trouble and out of my hair. He's always into everything. So he Digs (sorry Big Guy) Barney! Blahhh The kid's leave for school and Barney is on right then. He loves it and honestly i love the quite time to get the house organized and ready for him to rip it apart again after Barney is over. Oh but those few minutes of silence are golden.
Ok This is how i caught him today watching Barney.
I have to explain...... He's never had a Binkie. The big kids had one forever and it was so hard to get rid of so when Blaze did not like his as a baby we did not force it at all . (i don't think that was a smart thing at all since instead of a binkie at bedtime he gets a sippy cup, but i digress).
So he's taken quite a liken to knox binkie and thinks if he can steal it from Knox with out him crying he's free and clear to give it a suck.
Im starting to understand Jayme and Ali's Point of view. They did have it harder then us growing up, Only cause Mom and Dad, If there anything like i am know, Had more ideals and the right way to raise a kid and by the time Missy and I came around they were just to pooped. At least that's the way i am with my kids and they are all still small.